Currently, Mitel has a special called the Speedway program which allows you to get free virtual phone and virtual trunk licenses based on your old hardware specifications. For example, if you have an SG-90, then you will get 90 Virtual Phone Licenses. If you have SG-e1k, then you can get 24 Virtual SIP Trunk Licenses.
This is their way to help promote customers off of the old and limited (CPU & Memory) ShoreTel SG hardware. There is no fee associated to this program, and this could really help you save lots of room in your server rack from your physical switches. Oh, and you also get to keep your existing physical switches. These would be good if you still need them for redundancy or if you want to host local hunt-groups locally to a site.
The Speedway program is a global program available to all ShoreTel customers. "You do not need to be a Toshiba Authorized. There are no limit on the number of Speedway Program orders that can be placed for a customer".
Below are a few common questions and responses we pulled from the FAQ.
How many MiVoice Connect virtual phone and virtual trunk licenses can I order under the Speedway program?
To simplify ordering, use the table below representing per SG switch maximums that can be converted to virtual equivalent at no cost. If your SG switch model isn't listed, please contact your Distributor or Mitel Channel Account Manager for guidance.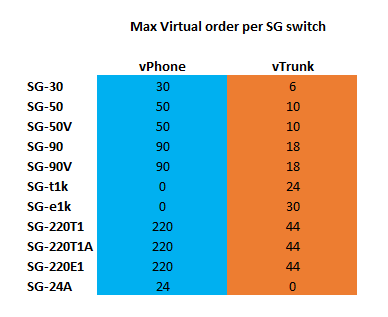 Can I keep my analog phones and move them to SIP on a virtual Phone switch using an ATA?
Yes, you will need to order a free virtual phone license for each ATA. Mitel can supply an approved Mitel branded ATA such as the TA7104i, or you can source your own, provided it has been certified. A number of certified ATAs can be found in:
What am I to do with my old SG switch? Does Mitel want it back?
No. Mitel encourages customers to recycle their decommissioned SG voice switches with a local e-waste recycler.
If I have an SG-50V or SG-90V, do I need a DVS?
Yes. You will need a DVS for local voicemail and auto attendant. Alternatively, the HQ server can provide that functionality if you do not need to distribute those services.
If you have any questions about this program, or you need help deploying the new virtual switches on your VMware or Hyper-V environments, then please reach out to us and we'll be happy to help.
For more of our Mitel / ShoreTel related content, go here.